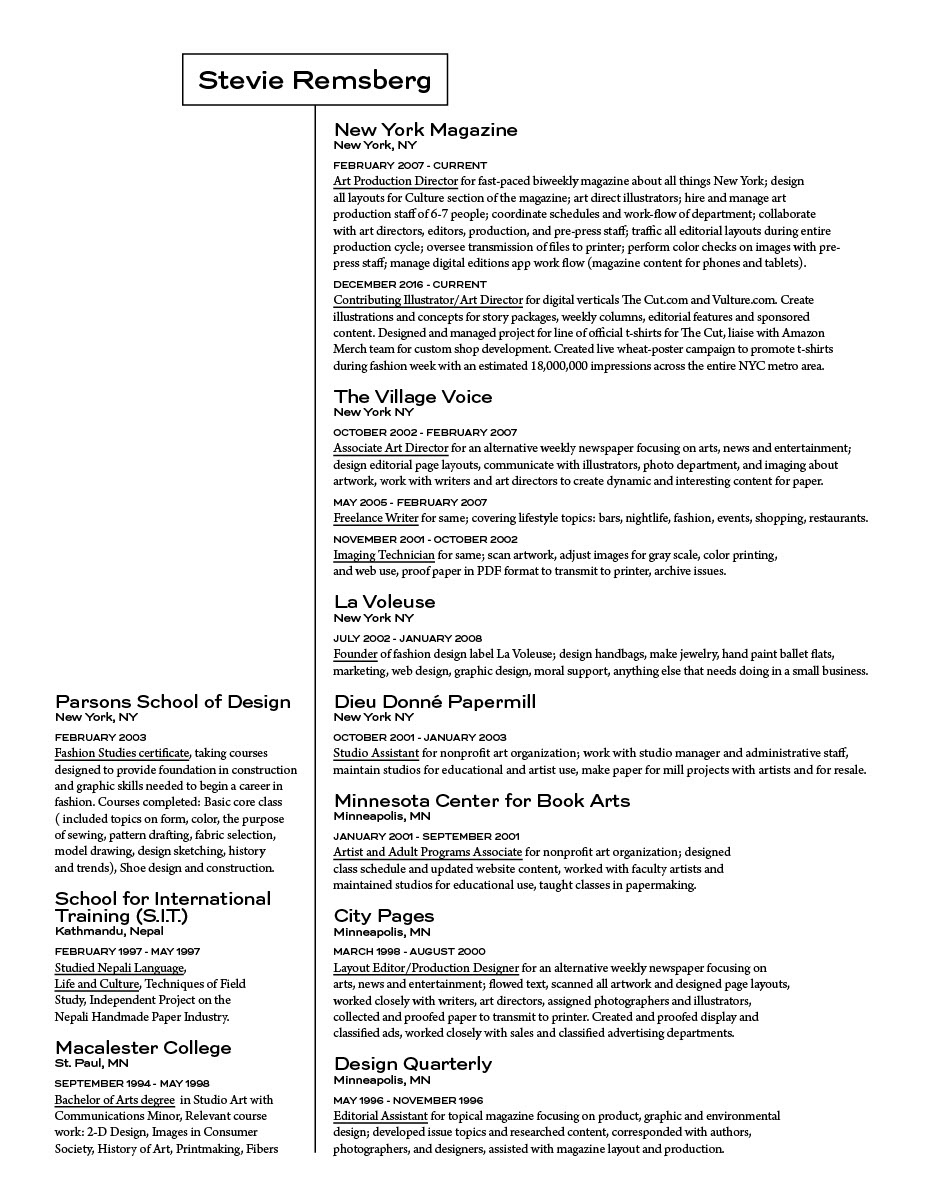 New York, NY 


February 2007 - Current
Art Production Director
for fast-paced biweekly magazine about all things New York; design all layouts for Culture section of the magazine; art direct illustrators; hire and manage art production staff of 6-7 people; coordinate schedules and work-flow of department; collaborate with art directors, editors, production, and pre-press staff; traffic all editorial layouts during entire production cycle; oversee transmission of files to printer; perform color checks on images with pre-press staff; manage digital editions app work flow (magazine content for phones and tablets).
December 2016 - Current

Contributing Illustrator/Art Director

for digital verticals The Cut.com and Vulture.com. Create illustrations and concepts for story packages, weekly columns, editorial features and sponsored content. Designed and managed project for line of official t-shirts for The Cut, liaise with Amazon Merch team for custom shop development. Created live wheat-poster campaign to promote t-shirts during fashion week with an estimated 18,000,000 impressions across the entire NYC metro area. 


[

Website

]
New York NY


October 2002 - February 2007




Associate Art Director 

for an alternative weekly newspaper focusing on arts, news and entertainment; design editorial page layouts, communicate with illustrators, photo department, and imaging about artwork, work with writers and art directors to create dynamic and interesting content for paper.
May 2005 - February 2007




Freelance Writer

 for same; covering lifestyle topics: bars, nightlife, fashion, events, shopping, restaurants.
November 2001 - October 2002




Imaging Technician 

for same; scan artwork, adjust images for gray scale, color printing, and web use, proof paper in PDF format to transmit to printer, archive issues.
[Website]
New York NY


July 2002 - January 2008




Founder

 in fashion design label La Voleuse; design handbags, make jewelry, hand paint ballet flats, marketing, web design, graphic design, moral support, anything else that needs doing in a small business.
New York NY




March 2004 - October 2004




Featured Designer

 as part of La Voleuse at Lower East Side Fashion Incubator: Selected to run a retail space, plan events, promote and merchandise store for six months.
New York NY




October 2001 - January 2003




Work-Study/Intern and Studio Assistant

 for nonprofit art organization; work with studio manager and administrative staff, maintain studios for educational and artist use, help with occasional graphic work, run errands, make paper for mill projects with artists and for resale, general odd jobs and dirty work.
[Website]
Minnesota Center for Book Arts
Minneapolis, MN


January 2001 - September 2001




Artist and Adult Programs Associate

 for nonprofit art organization; designed class schedule and updated website content, worked with faculty artists and maintained studios for educational use, taught classes in paper making, created signage for studio equipment.
[Website]
Minneapolis, MN


March 1998 - August 2000




Layout Editor

 for an alternative weekly newspaper focusing on arts, news and entertainment; flowed text, scanned all artwork and designed page layouts, worked closely with writers, art directors, assigned photographers and illustrators, collected and proofed paper to transmit to printer. Production Designer; created and proofed display and classified ads, worked closely with sales and classified advertising departments.
[Website]
Minneapolis, MN


May 1996 - November 1996




Editorial Assistant

 for topical magazine focusing on product, graphic and environmental design; developed issue topics and researched content, corresponded with authors, photographers, and designers, assisted with magazine layout and production.
New York, NY


February 2003
Fashion Studies certificate
, taking courses designed to provide foundation in construction and graphic skills needed to begin a career in fashion. Courses completed: Basic core class ( included topics on form, color, the purpose of sewing, pattern drafting, fabric selection, model drawing, design sketching, history and trends), Shoe design and construction.
School for International Training (S.I.T.)
Kathmandu, Nepal


February 1997 - May 1997
Studied Nepali Language, Life and Culture, Techniques of Field Study, Independent Project on the Nepali Handmade Paper Industry.
St. Paul, MN 


September 1994 - May 1998
Bachelor of Arts degree in Studio Art
with Communications Minor, Relevant course work: 2-D Design, Images in Consumer Society, History of Art, Printmaking, Fibers